Airbus 380 – $500 million
The Airbus 380 is not only the most expensive private jet in the world, but also the largest. It was the favorite plane of Saudi Prince Alwaleed bin Talal al-Saud. The fleets of Singapore Airlines and Emirates have the same model which can accommodate up to 800 passengers, but without the costly modifications of a Saudi prince.
The double-decker is currently listed at $500 million. Although the A380 was originally designed as an airliner, dealers are seeing used A380s transformed into luxury and expensive private jets.
This is what the Saudi prince Alwaleed bin Talal al-Saud did by transforming his A380 into a veritable flying palace, with parking space for his Rolls-Royce.
The three floors of the plane are connected by an elevator and a spiral staircase. Four family and VIP suites include a prayer room with electronic carpets designed to automatically rotate towards Mecca in the East.
For entertainment, a concert hall with a stage and a grand piano, as well as a Turkish bath for luxurious soaking were installed.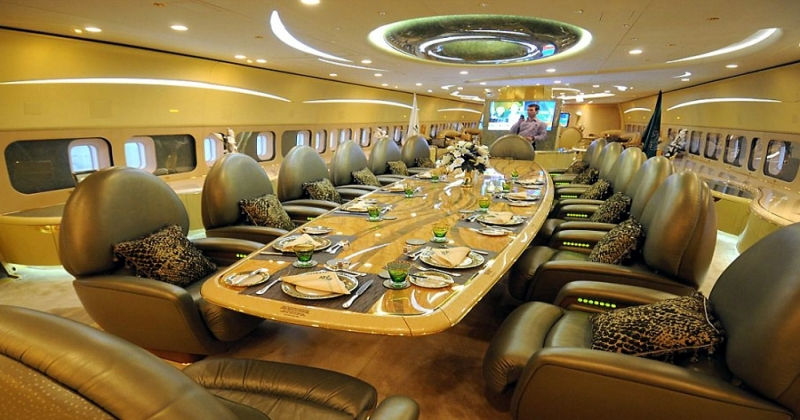 2. Airbus A340-300 – $350-500 million
Second on the list of the most expensive private jets in the world is the fabulous Airbus A340-300 owned by billionaire Alisher Usmanov, one of Russia's richest businessmen.
In its commercial configuration, the Airbus A340-300 can accommodate more than 300 passengers, being able to reach a maximum speed of 567 miles per hour and a range of 8,512 miles.
Usmanov's private jet, named "Burkhan" in honor of his father, has four engines and an ultra-long range, capable of taking all air routes on the planet.
While no information is available on the plane's interior, it is known to have undergone extensive modifications, with VIP additions that even top Russian President Vladimir Putin's Ilyushin Il-96. .
Boeing 747-8 VIP – $367 million
The longest and second largest airliner ever built, the price of this aircraft does not include luxury modifications that are made after purchase.
The 747-8 VIP interiors were built by Greenpoint Technologies using only the finest materials.
The private plane has two lounges and a dining area, a cabin with its own lounge, a large office and a state-of-the-art conference room.
Hong Kong real estate tycoon Joseph Lau is said to have spent an additional $200 million to outfit his plane with luxuries such as fully equipped bathrooms, a private lounge and a master suite with magnificent views of the the changing sky.
There is also a guest cabin with a luxurious en-suite bathroom.
Other amenities include a private office and generous meeting room, large screen TVs, two lounges with sofas and a dining area for 14 people.
This leggy plane can reach speeds of 645 mph and boasts an impressive range of 9,200 miles.
Boeing 747-430 – $323 million
The Sultan of Brunei is the owner of this lavish private jet.
Since he is one of the richest men in the world, one can imagine that he is customized to his exact specifications. The latest apparently added $100 million worth of luxury features to the plane, such as solid gold basins.
The interior truly reflects a flying palace, with Lalique crystal and custom gold accents throughout the interior.
A cruise speed of 620 mph and a flight range of 8,700 miles make it ideal for the Sultan's frequent trips across Europe and the Americas.
The sultan also has a fleet that includes six small jets as well as an Airbus A340.
Boeing 767-33A ER – $170 million
In fifth position, the Boeing 767-33A ER of Russian businessman Roman Abramovich.
This aircraft has a hefty price tag of $170 million. He could use it to transport his entire Chelsea football team and staff on board in the ultimate luxury.
It comfortably seats 30 passengers and has beautiful chestnut finishes with gold inlays throughout.
With a top speed of 530 mph and a maximum flight range of 6,890 miles, the anti-missile-equipped (yes, that's right) device can fly from London to Singapore in one go.
FAQs
How much does the most expensive private jet in the world cost?
The Airbus 380 is not only the most expensive private jet in the world, but also the largest. It is estimated at 500 million euros.
Who owns the most expensive private jet in the world?
It belongs to the prince of the Saudi prince Alwaleed bin Talal al-Saud.