An unexpected and modern collection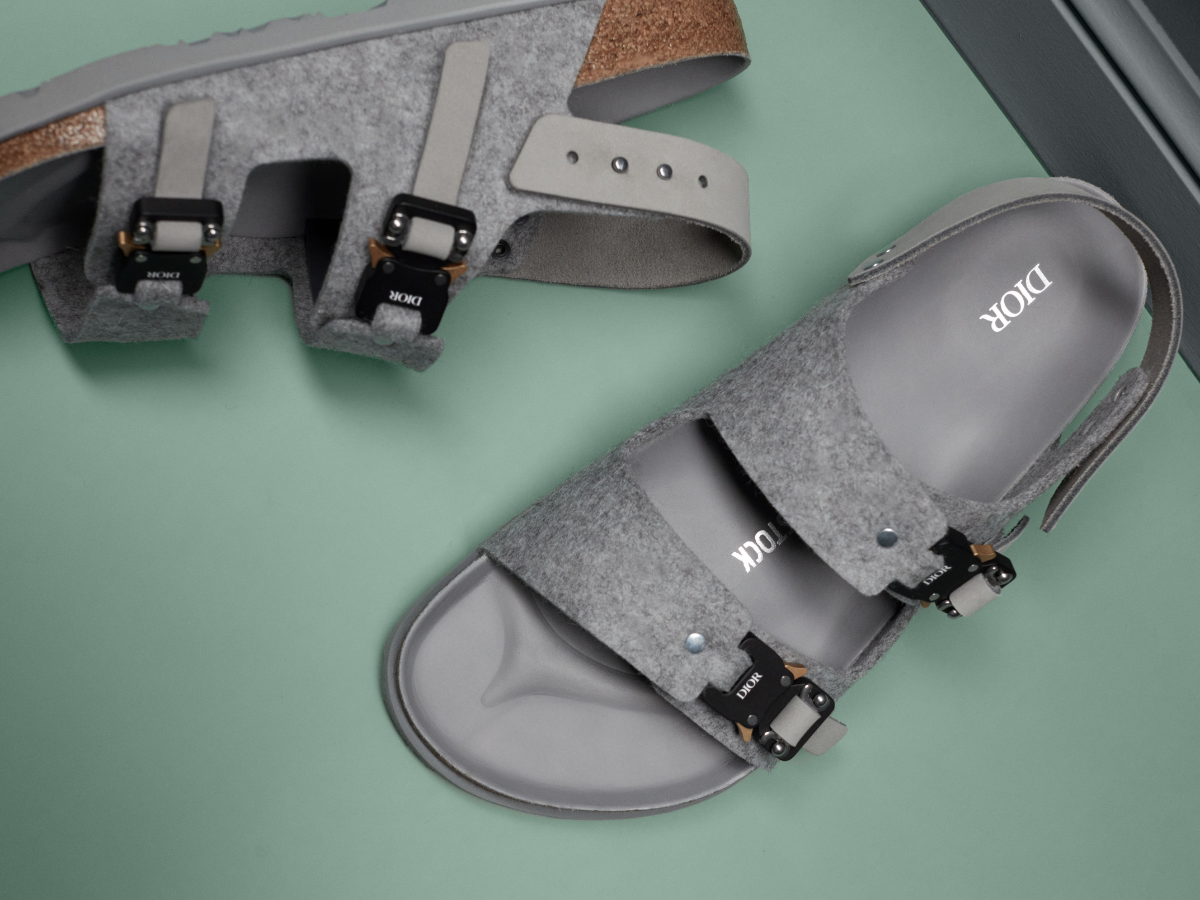 The collaboration between the French fashion house Dior and the German brand Birkenstock (which is an LVMH brand) appeared in January 2022 during a fashion show.
This collection between a sandal brand and a luxury house is not the first to have been created.
Indeed, some time ago, the brands Balenciaga and Crocs collaborated to create an extraordinary collection.
Dior Men's senior footwear designer Thibo Denis took to Instagram to showcase the five new designs, which come in a rainbow of soft neutral hues, ranging from light gray and stone to rich brown Mocha.
Delicately embroidered floral designs adorn a pair, tapping into the ever-popular Gen Z cottage-core aesthetic.
The models wore the felt sandals with stockings, to be in the theme of the fall, winter parade.
But now summer has arrived and sandals are finally on sale all over the world.
The collection is called Dior by Birkenstock, simple and effective.
The different models
It was this morning that the French luxury house put on sale two pairs of sandals from the Dior by Birkenstock collection.
The first pair are mules called Tokio and the second pair are sandals called Milano.
Both contain rear straps to provide support for the foot while being elegant.
Both payrolls are priced at $1,100 each. Available in two colors for the moment, they are sober.
Customers have the choice between black in leather or gray in felted wool.
According to Birkenstock, a new winter-ready Tokio is also available for cooler temperatures, as part of the main offer.
Of course, we find the design of the Birkenstock sandals but with an elegant touch that Dior knows how to add so well.
Both pairs of shoes feature Dior's signature rollercoaster-shaped buckle and waffle soles featuring a mix of Dior's Oblique pattern and Birkenstock's signature bone-patterned sole.
These shoes are part of the FW22 "CD 1947" capsule, which is infused with historical elements, including shades of "Dior gray" and a tribute to the Dior house creator's love of gardening, where the flowers in the campaign images and the saddle bag theme.
This collection was designed for men, although the brand advocates mixing ready-to-wear for men.
All women wishing to wear the sandals from this collection, both surprising and modern, can afford them.
Why this collaboration?
According to Dior, this collaboration "pays an always subtle tribute to Monsieur Dior's passion for gardening by combining functionality and elegance".
It is also a sign of friendship between the French brand and the German brand.
The collection is so popular and appreciated, that this one is already almost out of stock.
FAQs
When will the Dior x Birkenstock collection be available?
It has been available since June 16 on the two brand sites.
How much are the pairs from the Dior x Birkenstock collection sold for?
They are on sale at a price of 1100 euros.