If you are looking for a luxurious brunch to enjoy on a sunny Sunday or any season, this article is for you!
The Shangri-La Paris Hotel
You can't want to try a quality brunch without going to this hotel.
This brunch is a gastronomic hybrid including several buffets and a choice of two main dishes served directly at your table.
The service is more than excellent!
As for refreshments, the fruit juices are freshly squeezed and the best coffees and teas in the world carefully selected.
The "Franco-Asian" Brunch is an unusual theme for Paris. The restaurant 'The Bauhinia' has a few culinary surprises in store for you: from exotic salads, a decadent crème brûlée with foie gras, or even a jazzy wasabi mousse.
The 1K Hotel
Try the new brunch at 1 K. This place is one of the most luxurious hotels located in Le Marais, an emblematic district of the capital. The decoration is both modern and ethnic with a sumptuous blue painted ceiling accompanied by a magnificent terrace.
The delicious gourmet cuisine prepared by chef Julien Burbaud, from the Robuchon school, offers contemporary and elaborate dishes to share: Parihela fish with red quinoa, Seco lamb in its 'saltadi' juice, Caviar Harenga, grilled octopus with purple olives .
As for indulgence, the chef offers you a Lucuma: a subtle blend of Oreo, passion fruit caramel and coconut, or Maracuja: chocolate and passion fruit sponge cake.
The Four Season George V
For a totally luxurious and divine start to the day, you can first consider the superb Japanese breakfast in the light-filled Royal Dining Room of the Four Seasons George V Palace.
Everything is beautifully prepared and the staff will be at your disposal so that you have a pleasant time.
The proposals are many.
Passing by a miso soup with premium tofu, nori seaweed, a Japanese omelette, spinach with sesame seeds, salmon sashimi and daikon turnips with bets soy sauce.
The place itself is a pleasure to admire. The details are absolutely luxurious. The floral arrangement that adorns the hotel lobby throughout the year is chosen with great care.
The Plaza Athenée
The Plaza Athénée is the ideal place for a unique culinary experience!
You can then expect a culinary journey like no other: the "Haute Couture Brunch": a variety of French baguettes with a selection of fabulous jams and Chef Alain Ducasse's hazelnut chocolate spread.
Homemade yogurts perfectly arranged with plates of fresh tropical fruits, the best coffees and bubbles!
At the Plaza Athénée, service is a true art form, like a graceful operatic ballet.
Every detail seems effortless, yet we all know that an incredible amount of preparation goes on behind the scenes!
The W OPERA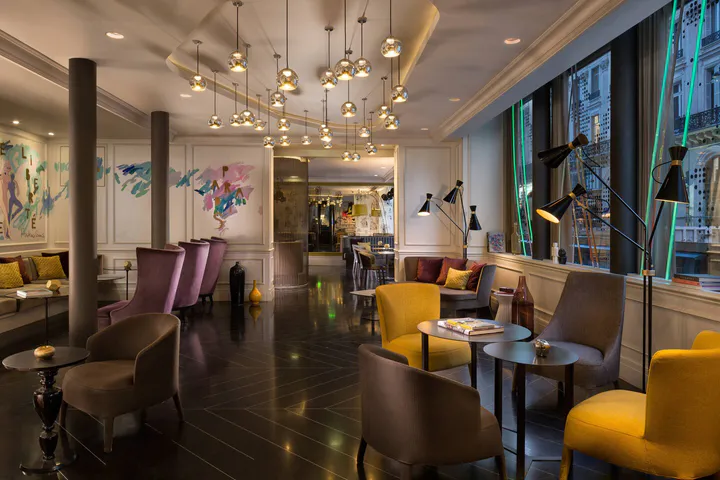 Located in one of the most beautiful districts of Paris, the W and its modern and refined restaurant, La Coquette, host a new haute couture brunch every Sunday.
It is a perfect combination of French gastronomy and fashion. I
It can be hard to grasp the concept until you experience it: pumpkin soup, boiled fish infused with ginger, quinoa salad with grapes, cocoa oil and basil leaves, goat cheese with avocado, hot green apple are some of the surprising dishes served during brunch.
We have a special mention for the 'no worries' formula, which takes into account food allergies and vegan diets.
Since most of our American couples sponsor vegetarian and vegan food, this is definitely a place you would like to visit!
You can also enjoy the "Do it yourself" activity.
The principle being to get a haircut while enjoying a delicious glass of champagne after a 45-minute yoga session!
Hoping that you will be able to find your happiness among these magnificent addresses.
FAQs
Can we have brunch at the Hotel Georges V?
The superb Japanese breakfast in the luminous royal dining room of the Four Seasons George V Palace.
Can we have brunch at the Shangri-La Paris hotel?
A gourmet hybrid brunch is offered including several buffets and a choice of two main dishes served directly at your table.